Rayn's Point of View:
Early this month I've shared in seminars that GBPUSD is heading towards 1.4630 range. Didn't know what's going to push it higher, could it be –
1. A raise of interest rate,
2. UK decided to throw another referendum after gotten the EU deal and vote result is not to leave the EU or
3. They got a good deal from China and or US and form strong trade relation
4. EU situation got worst and shows that they had the right move?
This is a similar anlaysis I did in Dec 2015 when I spotted GBPUSD is going to nose dive to $1.10-$1.20 range without knowing they are going to call for a referendum for Brexit.
Follow us closely as we are looking for opportunity to long when the market has make a good correction, hope we still have the chance to.
Let's earn more together this year!
Disclaimer: Information or opinions provided herein should not be used for investment advice and do not constitute an offer to sell or solicitation of an offer to buy any securities or financial instruments or any advice or recommendation with respect to such securities or other financial instruments. When making a decision about your investments, you should seek the advice of a professional financial adviser.
All rights reserved of Forex100 Academy (Pte Ltd). No part or in whole of this report may be reproduced and disseminated without the written permission of Forex100 Academy (Pte Ltd).

Source from: https://www.bloomberg.com/news/articles/2018-04-05/top-pound-forecasters-are-bullish-as-brexit-worries-overplayed
The most accurate pound forecasters are keeping calm and see the currency climbing more than 8 percent this year.
Sterling's bumpy ride since the end of January has done little to alter the view of John Goldie at London-based broker Argentex LLP, which holds the top position for the pound against the dollar in Bloomberg's latest survey ranking. He sees the currency ending the year at $1.46, compared to a median poll of $1.42. Investec, which topped rankings for major currencies, said the underlying fundamentals support a bullish sterling view.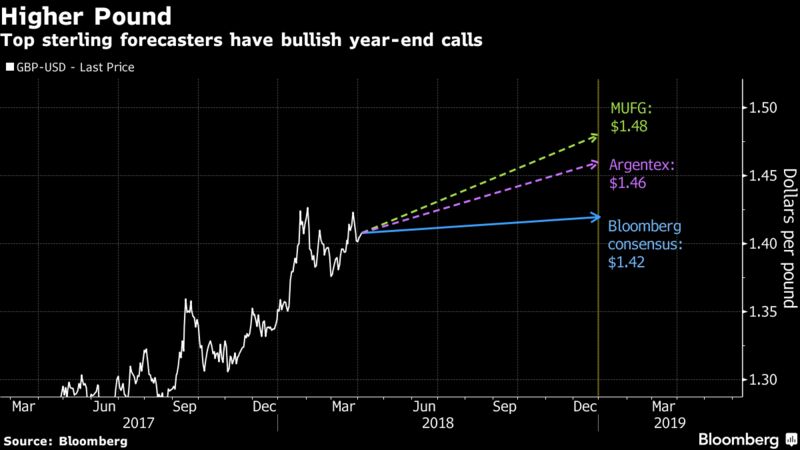 The dwindling risks of a hard Brexit, after the U.K. and European Union agreed a transition period following Britain's exit a year from now, a weak dollar and tighter monetary policy from the Bank of England are the main reasons for this optimism. The pound rallied 5 percent in January and touched a post-Brexit vote high above $1.43, but has since fallen back to below $1.41.
"Brexit risks are overplayed, my view is that agreements will be made," said Goldie, a dealer at Argentex. "While there is inevitable struggle over this period, I don't think things have been nearly as bad as previously thought. There is room for the BOE to consider a second rate hike this year. If that expectation gathers ground, that's another reason to see sterling move higher."
BOE Confidence
MUFG, which is also among the top five forecasters on the pound, is even more bullish, predicting $1.48 by end-2018. While the Brexit transition deal may not be "done and dusted", the progress in negotiations is enough to give the BOE the confidence to raise interest rates in May, said Derek Halpenny, its European head of global markets research.
"The assumption that we had when we made the $1.48 forecast is that a transition deal would be implemented and the cliff edge risk around March 29, 2019 would be removed," said Halpenny. "We've also got the BOE raising rates on two occasions this year, in May and November."
It's been a long-held view for Investec that there is "too much bad news factored in on Brexit," said Victoria Clarke, an economist at the firm. While this year could see sterling stay near current levels due to all the political noise, Investec expects it to climb higher and reach $1.46 in 2019, based on two rate hikes this year and another by mid-2019.
Bloomberg FX Forecast Accuracy Ranking – Majors Q1 2018
"The pound against the U.S. dollar will continue to track higher through 2019, once more of that Brexit uncertainty passes out of the way and we are able to focus a bit more on the fact that the U.K. economy is continuing to grow and the BOE will carry on raising rates," London-based Clarke said. "They do seem pretty intent on carrying on with that normalization process."
These bullish views run counter to those of some of Europe's biggest fund managers such as Allianz Global Investors GmbH and Amundi SA, who are bearish on the pound given political uncertainty and skepticism about the odds of policy tightening. Money markets are currently pricing in an 86 percent chance of a BOE move in May.
The main worry for the pound bulls is trade tension between the U.S. and China.
"The number one downside risk to our forecast is an escalation of global trade friction," MUFG's Halpenny said. "A deteriorating backdrop on trade is certainly not the most favorable type of scenario as the U.K. goes into negotiations on a final trade deal."
Source from: https://www.bloomberg.com/news/articles/2018-04-05/top-pound-forecasters-are-bullish-as-brexit-worries-overplayed