Investors in Australia's bonds are boosting bets the central bank will join its global peers in shifting toward a more hawkish policy stance.
The extra yield on the nation's benchmark three-year bonds over the central bank's overnight cash rate jumped to 75 basis points Friday, the widest since May 2010. Retail sales and employment both grew at more than twice the pace economists predicted, according to the latest data published this month.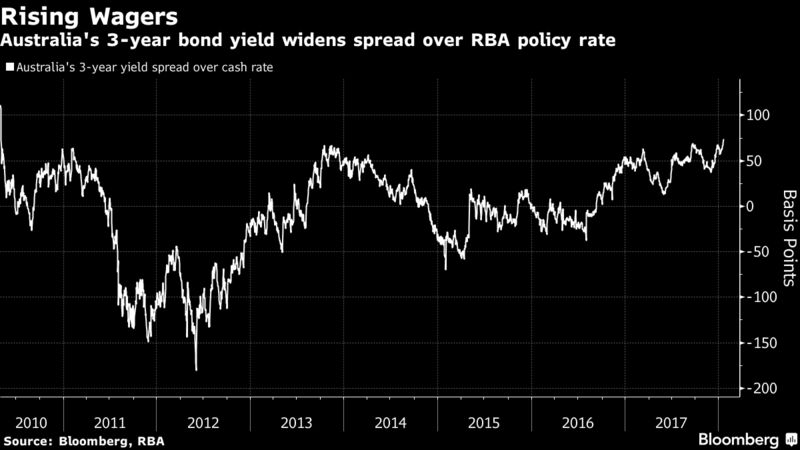 Recent figures provide a "very strong setting" to the economy for 2018, said Martin Whetton, a senior rates strategist at Australia & New Zealand Banking Group Ltd. in Sydney. "Sentiment for global central banks is one of hiking in 2018 or unwinding of extraordinary monetary policy, so the Australia market has followed."
The Bank of Canada raised its policy rate Wednesday for the third time since the middle of 2017, while the European Central Bank said it's contemplating a tweak to its policy guidance. The RBA is likely to boost borrowing costs in May, "which justifies where the curve is to some degree," ANZ's Whetton said.
Source: https://www.bloomberg.com/news/articles/2018-01-19/australia-yields-signal-rba-tightening-looms-as-economy-improves
Point Of View: 
Aussie retail sales and employment showed upbeat data at the start of 2018
Market is optimistic that RBA will follow the globe to move towards hawkish stance and start raising interest rate.
If RBA join in to normalise the monetary policy, AUD will continue to appreciate against the dollar. Other factors such as commodity price and its biggest trade partner, China economy will also affect Aussie movement. It is likely the AUD will continue to appreciate as the economy growth is proficient.